Also available in: Español
Source: ABI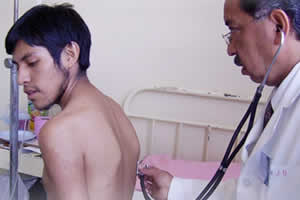 La Paz, March 24 .- Bolivia ranks third with high tuberculosis rates in Latin America and the Caribbean, with 8.298 cases, after Haiti and Peru, reported last Monday the sources from the Ministry of Health.
"8.298 cases were registered in Bolivia in 2008 in all its modes, but pulmonary tuberculosis cases amount to 6.035, the remaining cases are registered with localization in other organs", explained the head of the National Program for Tuberculosis Control, Miriam Nogales, commemorating World Tuberculosis Day.
Nogales stated that the young population is the most affected with this disease. "64% of contagious cases were identified in people less than 55 years old".
She stated that the Department that registers most tuberculosis cases is Santa Cruz, due to the migratory flows from west to east.
She said that diagnosis and treatment to fight this disease are free in all hospitals of the country under the Nation General Treasure.
Nogales stated that the current treatment scheme covers six months with highly effective drugs among bactericides and sterilizers.
On the other hand, Nogales reported that the Pan American Health Organization (PAHO) delayed for two months the delivery of Etambutol, medicine for tuberculosis treatment, although this situation did not have any consequence, contradicting some versions on dead people due to the disease in the south of Bolivia.
"It has not been a delay of the Ministry of Health. The medicine arrived and was distributed nationwide", she insisted.
The Program representative said that the main problem for mortality due to tuberculosis is the late diagnosis.
"It is a common problem in the country regions, patients do not consider coughing as a warning signal", she said.
Nogales stated that the Ministry of Health prepared a health strategic plan to control tuberculosis from 2008 to 2015, with community participation in control activities.
Tuberculosis is an infectious and contagious disease, caused by the Bacilo de Koch organism. There are two types of tuberculosis, pulmonary and extra-pulmonary that affect the liver, kidneys, brain, lymph nodes, marrow bone, bones, skin and reproductive system.